I was responsible for creating the visual part of the

Magic Ramen

picture book written by Andrea Wang. This book is an easy-to-understand and warm description of
Ando Momofuku's struggle to invent instant noodles.
Andrea Wangさん原作の絵本「Magic Ramen」の絵を担当しました。
本書はインスタントラーメンを発明した安藤百福さんの奮闘を、
Text and story: Andrea Wang 
Illustrations: Kana Urbanowicz 
Published by: Little Bee Books
Publication date: March 5, 2019
The story starts in Osaka in the early days after World War II. 
Walking a black market street, Ando Momofuku is dismayed by the sight of people waiting in a long line just to buy a bowl of ramen in this time of overwhelming food shortage.
戦後まもない頃の大阪。この闇市で、安藤百福さんはラーメン屋を見かけます。
食料が不足していた当時、そこには行列ができていました。
Wanting to create a nutritious meal, that can be easily and quickly prepared by anyone,
he starts to develop the instant noodles!
その様子を見て、栄養のある温かなラーメンを、誰もがいつでも食べられるようしたいと思う百福さん。
We follow the real story of Ando Momofuku through this long trial-and-error
development process. How will he make his ideas into reality? 
なんども挑戦し、なんども失敗し、そのたびにまた試行錯誤を繰り返していく。
はたして、百福さんの挑戦はどうやってかたちになっていくのでしょう?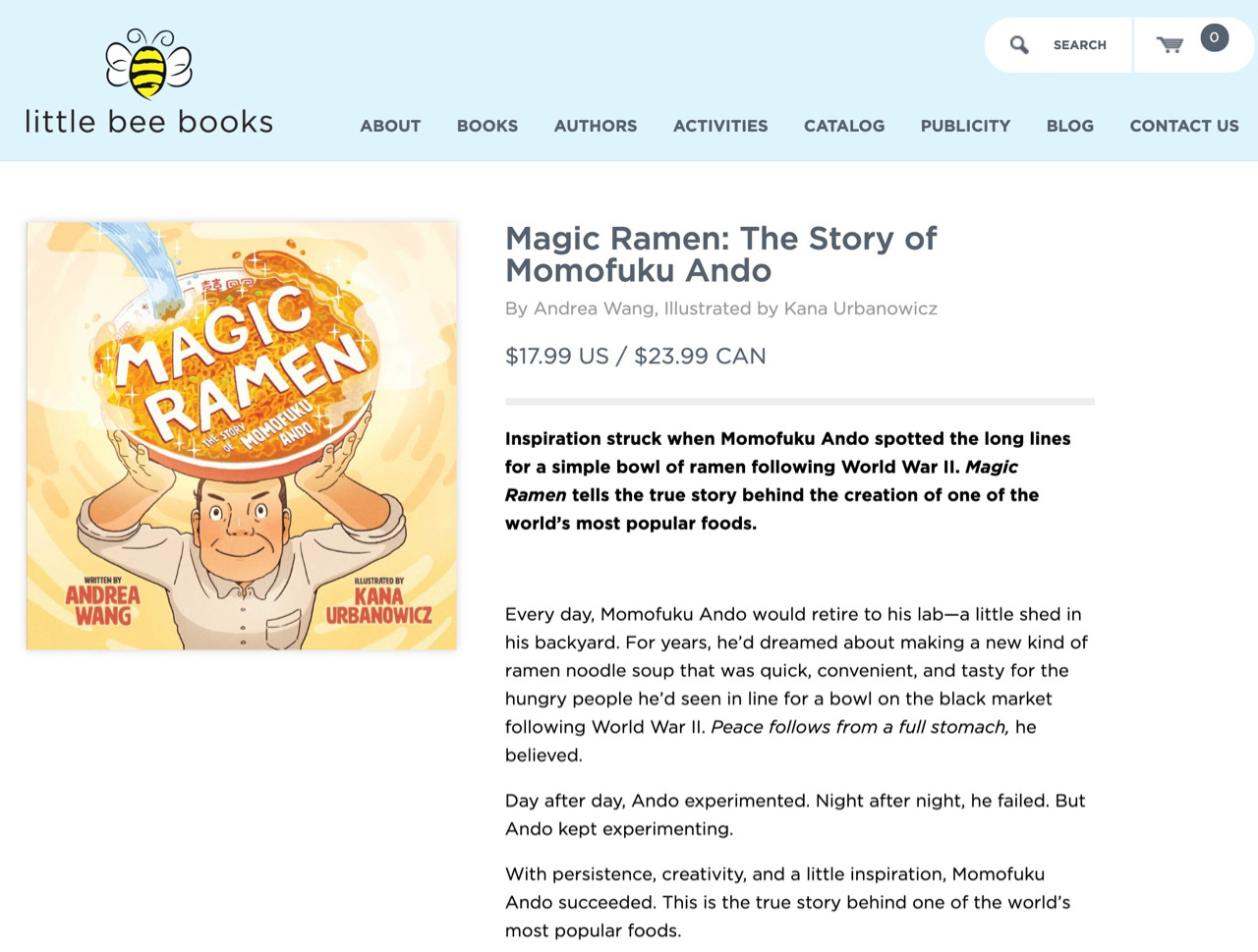 Read more on the book's page, on the publisher's official website:

Little Bee Books

.
​​​​​​​
 You can also download there additional materials aimed for teachers wanting to use
Magic Ramen

 as class material.
Left:

the book's front endpaper.        

Right

: the back endpaper.       
I tried to design the endpapers so anyone who learns the contents of the book can enjoy them a bit more.
Pick up the book I'm sure you will like it!
この絵本を読んだ人には、ピンとくるデザインにしました。:D